Vape Cartridge VS Tank: What's the Difference?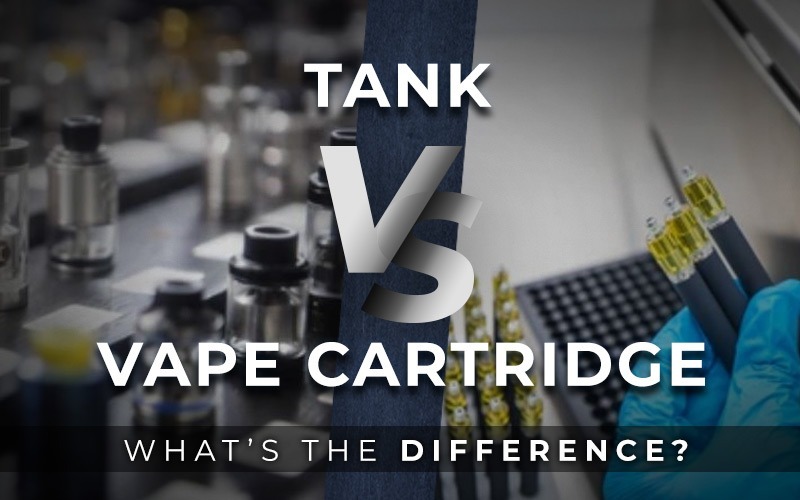 Vaping has been around for a long time. Most traditional smokers have switched to vaping because it is an ideal alternative to traditional cigarettes. However, there has been confusion around since the vaping scene has taken over the world. Some individuals think that vape cartridges and vape tanks are similar, but they are different. Still, both are attachments of vaping devices. Keep reading this article, and we will tell you about vape cartridges and tanks. Also, if you are looking for X6 vaporizer tanks, then check out our collection. 
Vape Tank:
Vape tanks are an attachment on the top of your vaping device. It allows the user to store the e-liquid which they will be vaping from their device. Tanks are typically large and come with 2mL or higher vape juice capacity. Most of the tanks have a glass or plastic enclosure with other metal components attached to the tank. You can feel that the coil inside the tank is not producing good flavor, and the atomizer coil needs to be replaced. 
If you keep maintaining your vape and keep it clean, you can use the coils for a good time. However, some of the atomizer coils can last you for 3-4 weeks, depending on the wicking cotton inside them. In addition to this, the wick in the vape tanks is totally different from the vape cartridge. 
Vape Cartridge:
The vape cartridge is similar to the vape tank, and it is also attached to a vaping device. It stores your vaporizing material. This is where the main difference comes in between vape tanks and vape cartridges is that 'vape cartridge' is referred to as an attachment of vape. It is designed and created to hold thick oil-based herbal extracts. There's a fact that you can't store standard and normal e-liquid in these cartridges because there are key differences between vape tanks and vape cartridges that you should know.
● Vape tanks come with a 2mL or higher for restoring your standard e-liquids. Meanwhile, vape carts have a smaller storage compartment and hold around 0.5 to 1.0 mL of oil. If you have ever thought about what a vape cartridge looks like, they are typically cylindrical in shape, and they have a narrow design. It is a little wider than the regular cigarette.
● You won't find a replaceable atomizer coil in the vape cartridge. You have to refill the vape cart until the flavor quality is not acceptable to the user, and then you have to throw it away. There are pre-filled vape cartridges that are available in the market. Once they are consumed, you have to throw them away. 
Another big difference between vape tanks and vape cartridges is the materials that these components are utilized in the construction. Most of the vape tanks aren't disposable, and they utilize an atomizer coil inside them. It can be replaced at any time as per the user's needs. The enclosures on the vape tank are made up of glass. However, you might find high-quality plastic glass on some new tanks. Meanwhile, on the other hand, vape cartridges are usually disposable. These cartridges are cost-effective. 
Best Vape Tanks In The Game:
Vape tanks are amazing if you want incredible flavor with massive cloud production. You can get one of the best vape tanks in the vaping scene. Check them below:
● Uwell Fancier Tank
● Geek Vape Ammit MTL RDA
● Vandy Vape Phobia RDA
● Vaporesso GTX PODTANK 26
● The Troll RTA
● Lush Plus RDA S.S
Final Thoughts:
To wrap this up, now you know the difference between vape tanks and vape cartridges. You can easily spot them now if you ever see them on a vaping device. If you are looking to get into the sub-ohm vaping scene and thinking about which tank would be ideal for you, then you can check the best vaping accessories in the market from Vapes Direct, an ideal vape shop in Pakistan.