The differences between Freebase, Salt, & Tobacco-Free Nicotine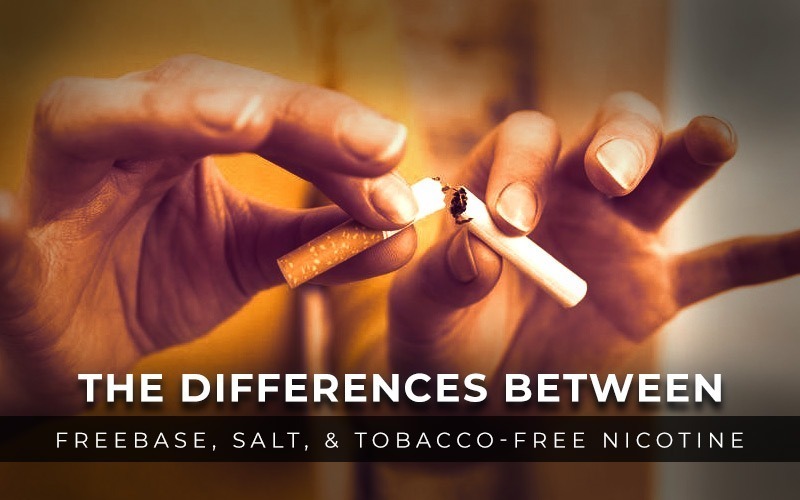 E-liquids are the fuel of a vaping device. The device functions and operates using an e-juice. Most of these e-liquids come in unique and distinct flavors with different nicotine levels and ratios. However, vapers have to choose the e-liquid that is according to their preferences. They have to pick the vape juice that will fulfill their vaping needs. Vaping liquids come in different types. One is freebase, one is salt, and the other is tobacco-free nicotine. Keep reading this article, and you will learn about the differences between these types. 
You can get tobacco e-liquids for your vaping experience if you want something close to traditional cigarettes. You can grab it from our website. 
Freebase E-Liquids:
Freebase e-liquids give you an ideal flavor with massive cloud production. The ingredients inside this e-liquid include VG and PG. The ratio of VG and PG gets changed as per what the vapers are going for the e-liquid. If the nicotine level is low, the VG will be 70%, and PG will be 30%. It goes for 3 mg, 6 mg and 12 mg. The PG has the flavor in it and gives you the throat hit. VG plays the part of creating massive vapor and mellowing out the throat hit. 
Vapers can find different strengths in freebase e-liquids. It ranges from 3 mg to 6 mg and which is lower and then 12 mg to 18 mg, which is higher. Freebase e-liquids are ideal for those people who want to do the cloud-chasing and have a strong flavor. 
Nicotine Salts:
Nicotine salts have 50% VG and 50% PG inside them. They have a distinct and unique flavoring with nicotine-infused in them. The kind of nicotine in these e-liquids is different. Nicotine salts utilize a more neutral pH than the regular freebase nicotine that is found in freebase e-liquids. Nicotine salts come in higher strengths. You will find them in 18 mg, 20 mg, 30 mg, 35 mg and 50 mg. Every brand has different strengths in their nic salt e-liquids. 
These e-liquids are absorbed more quickly than the regular freebase e-liquids. It means these are an ideal option for ex-smoker who want to fulfill their nicotine needs.
Tobacco-Free Nicotine:
Tobacco-free nicotine describes the nicotine that doesn't come from a tobacco plant. It is a synthetic nicotine that is prepared and made in a lab. It comes with the same molecular elements found in the tobacco plant's natural nicotine. 
This type of nicotine is heavily used in e-liquids because it also fulfills your daily nicotine needs. Some leading vaping juice manufacturers have started using this type of nicotine in their e-juices. If you want to know if the e-liquid has tobacco-free nicotine in it, you can read about it from the label on the bottle.
Which One Should You Choose:
Vapers across the world have different tastes in e-liquids. Some of them pick the freebase ones because they want massive cloud production with an incredible flavor. The freebase e-liquids will give you a mixture of one or two flavorings blended together to give you a refreshing and smooth taste on every puff.
Meanwhile, some vapers choose nicotine salts because they want to satisfy their daily nicotine needs. You can pick up Pod Salt e-liquids for nicotine salts for yourself. They are the best vaping juices with incredible concoctions to give you the best vaping experience.
Final Thoughts:
To sum up, now you are aware of freebase, salt-nic, and tobacco-free nicotine e-liquids. You can easily differentiate between them and pick the one that's right for you. These e-liquids have an amazing flavor that gives you a good vaping experience.
Also, if you are looking forward to buying incredible blends of Pod Salt, then you can get it from Vapes Direct.