Why Do Vapers Love Nasty Juice E-Liquids?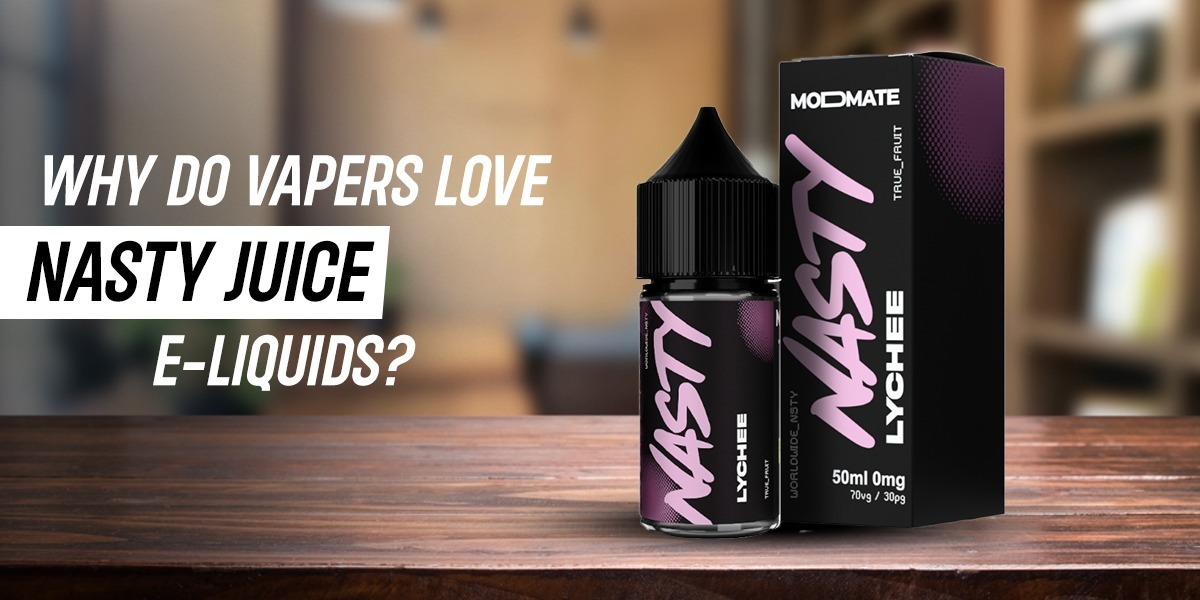 Nasty Juice is a top choice for vapers, and here's why: They've been in the business for a long time and have gained a reputation for their fantastic salt-nic and freebase e-liquids. Their unique flavors have convinced many people to switch from other brands to Nasty Juice.
What is it about these e-liquids that has created such a fervent following in the vaping community? Join us as we delve into the reasons behind the unwavering love vapers have for exotic flavors by Nasty Juice.
Speaking of top-notch pod kits, UWELL is one of the brands that has been doing wonders for vapers across the world. Today, you will get a review of UWELL Caliburn GK2 and how it can be the ideal device for you. Keep reading!
Why Nasty Juices Are Ideal For You?
Nasty Juice offers a diverse range of exciting flavors that cater to a wide array of preferences, making it the ideal choice for a broad spectrum of vapers. With a lineup of distinct and innovative concoctions, Nasty Juice manages to satisfy the taste buds of a diverse vaping community. Whether you're seeking a specific flavor profile or have unique preferences, Nasty Juice provides the flexibility for individuals to handpick e-liquids that precisely match their tastes and requirements.
How Did Nasty Juice Start This All?
Nasty Juice created and crafted its very first batch of e-liquid in Malaysia back in 2015. Since then, the brand has grown immensely and has rolled out a range of flavors with different nicotine concentrations for vapers of all levels. The brand has been sticking with the strict TPD regulations in order to give its customers what they want.
With the Nasty Juices, you get a high ratio of Vegetable Glycerin (VG), which acts as the main compound carrier of your e-liquid. The higher ratio of VG with less ratio of PG means thicker the shortfill and bigger the clouds. On the other hand, Nasty Juice has also been catering to salt-nic vapers who want to satisfy their daily nicotine needs.
Best Nasty Juice Flavors For Vapers
For The Sub Ohm Vapers
Slow Blow
Slow Blow is the most famous e-juice of this brand. It is a pineapple flavor e-liquid that you can find in the market. It has a perfect blend of citrus zest with a drop of mint at the exhale that comes out as an incredible mixture for the vapers. This delightful combination will always make you keep coming back for more.
Sicko Blue
Sicko Blue is another vape flavor from Nasty Juice that has the same 70/30 VG to PG ratio as Slow Blow and is ideal for many people. It is a mixture of berries that gives a smooth flavor whenever you take a puff. The sharp notes of the e-liquid will make you fall in love with this e-juice.
For The Salt-Nic Vapers
Salt-nic vapers who want to try Nasty Juice's flavors can get these for their vaping experience. Also, you can grab these Nasty Salt vape juices from Vapes Direct.
Nasty Salt Asap Grape
Asap Grape is an incredible salt-nic vape juice for vapers who want a kick of nicotine with a blend of exotic flavors. A hint of minty-fresh flavor topped up with ripe and juicy grapes. On top of that, the nicotine-infused in it will be the perfect vape juice for you. This is a smooth vape liquid that many vapers will love.
Nasty Salt Cushman Mango Grape
This is a popular salt-nic vape juice from Nasty Juice, which is the right choice for people out there. It is a blend of luscious mangoes that are fused with exotic grapes in order to bring a delightful mixture. On top of that, the nicotine concentration makes it 2x better for the vapers who want to enjoy their vaping experience.
Final Thoughts
Nasty Juice vape juices are the top-tier e-liquids that are available in the market. Sub-ohm vapers and nicotine enthusiasts can grab these vape juices as per their preferences and needs. These juices have a delightful blend inside them, and then they are topped up with nicotine concentration, which will be the ideal choice for many people!