VAPORESSO | An In-Depth Brand Review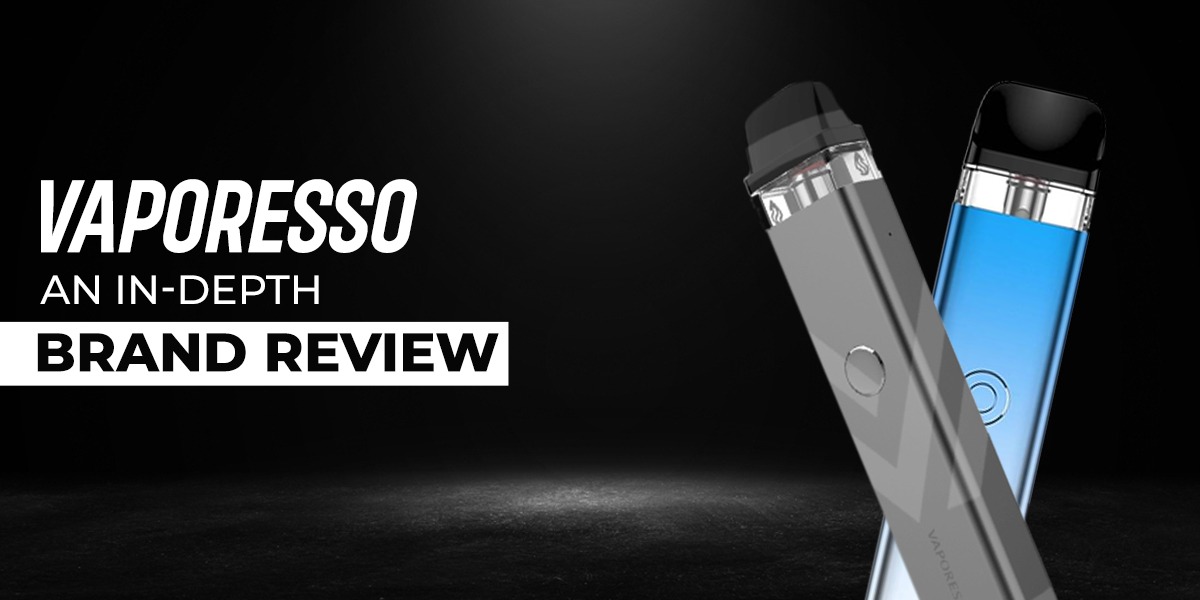 In the vaping world, there are many brands that have come and gone, but there's only one brand that has stayed and reached newer heights every year. We are talking about the veteran vaping brand, VAPORESSO. It is known for its amazing devices, which have turned many heads in the vaping industry. It is safe to say that this brand has always created and designed incredible and unique devices for vapers across the globe.
Today, you will learn what VAPORESSO is, and we will do an in-depth brand review. Keep reading!
Speaking of top-notch pod kits, UWELL is one of the brands that has been doing wonders for vapers across the world. Today, you will get a review of UWELL Caliburn GK2 and how it can be the ideal device for you. Keep reading!
What Is VAPORESSO?
VAPORESSO is a premium vape brand that's been around since 2015, and now this brand is a proud owner of more than 800 patents, all thanks to its innovative devices and vaping accessories.
Their journey started several years ago with the parent company SMOORE, which was founded in 2006, and then took nine years down the road to create VAPORESSO with the aim of establishing a smoke-free world.
There's no doubt that all the vaping devices that come under this brand offer versatility and flexibility. The best part? The beginners who are just getting started with their vaping journey pick VAPORESSO over any other brand.
Read about the rundown of this brand's journey below:
Year 2015: VAPORESSO was introduced to the market and launched its very first Target series, which came with Target Pro, Target Mini, and Target Tank. These products were popular back then because of their unique design, advanced features, and compatibility with a wide range of coils.
Year 2016: VAPORESSO's Omni chipset was released. This chipset offered some exciting features like temperature control, customizable wattage curves, and various safety protections.
Year 2017: With the latest Omni chipset 2.2, the brand launched the Revenger X mod and the Switcher mod. VAPORESSO's Revenger X and Switch gained popularity for their ergonomic design with maxed-out power output and user interfaces.
Year 2018: The brand released the Cascade sub-ohm tank, which featured an isolation structure that helps to prevent dry hits. This sub-ohm tank is compatible with GT Cores, a series of coils known for their excellent vapor product and flavor.
Year 2019: VAPORESSO unveiled their Axon chipset, which features rapid firing, smart temperature control, and Pulse Mode to ensure a consistent vaping experience.
Year 2020: VAPORESSO launched their XIRON pod mod, which has an ergonomic design with adjustable airflow and is compatible with GTX coils.
Year 2021: VAPORESSO released the XROS series. The response for Vaporesso XROS was tremendous, hitting the '3M kits sold' mark.
Best VAPORESSO Devices
Since VAPORESSO has been an incredible brand in vaping, we would like to tell you about their best devices.
Pod Systems
ECHO Nano
COSS
XROS
LUXE
BARR
OSMALL
ZERO
X MINI
Speaking of pod systems, you can get VAPORESSO XROS pod systems and other devices from Vapes Direct at affordable rates.
Pod Mods
VAPORESSO knows that many vapers want to enjoy something powerful with maxed-out flavor and style. For indulging in top-notch flavor and producing massive clouds, VAPORESSO has rolled out its pod mods. These devices are compact, easy to use, and give an incredible vaping experience.
LUXE Series
GEN Series
TARGET Series
You can check out Vapes Direct's collection if you want to get your hands on any of these devices.
Tank Mods
Since we have mentioned the best pod systems and pod mods of VAPORESSO, how can we forget to talk about tank mods? Of course, the brand's high-performance devices deserve a spot here. They can provide extensive cloud production with longevity to the user. VAPORESSO's tank mods are known for robustness as they offer a next-level vaping experience.
These tank mods come under VAPORESSO. Check them out:
GEN Series
LUXE Series
TARGET Series
GTX One
TAROT Nano
Final Thoughts
In conclusion, VAPORESSO has truly solidified its place as a prominent player in the vaping industry. With an impressive journey marked by innovation and a commitment to creating top-notch vaping devices, it's no wonder that this brand has won the hearts of vapers worldwide.