Vaping On A Budget: Affordable Vape Juice Options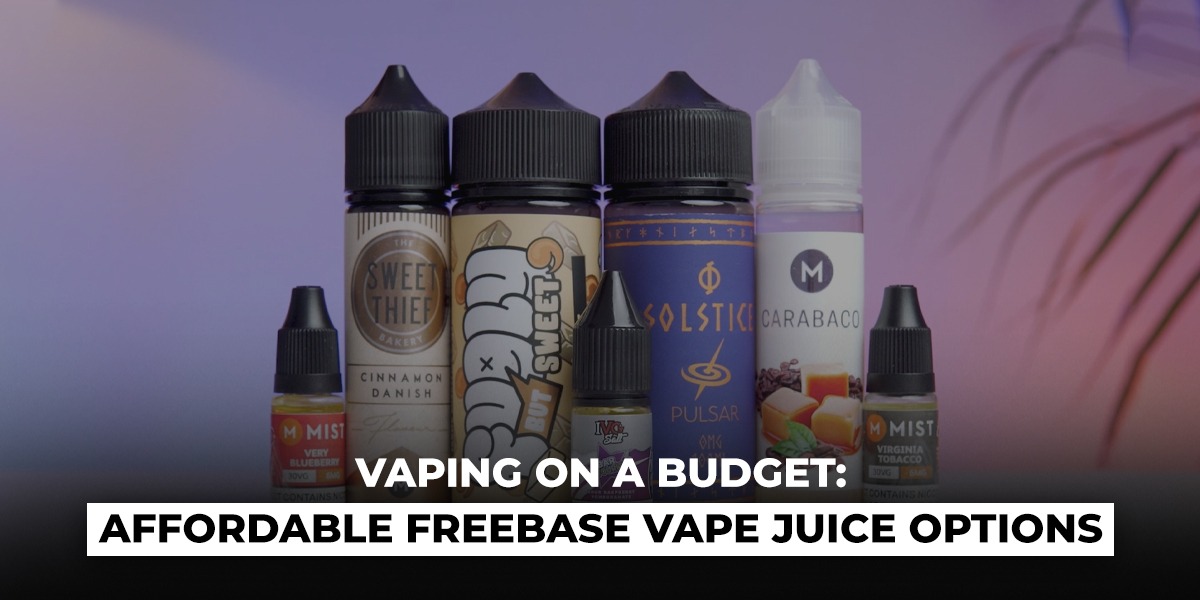 In today's world, vaping has become a new trend and a popular alternative to smoking. And what makes it the most desired and conceivable choice is its availability in a variety of e-liquids options. Vape juice with nicotine in the purest form is the most common choice for vapers. Nonetheless, finding the most budget-friendly vape with the utmost quality is challenging. Don't worry because many high-quality vaping liquids are easily available in the market.
In this blog, you will learn about some budget-friendly vape juice options that give you a ten-on-ten vaping experience without breaking the bank.
The Pod Salt Line
Pod Salt line is one affordable vaping option, formulated to provide a faster absorption rate while lasting for an extended period and making for a rich flavorful vape juice. The Pod Salt line is excellent for people who switch from traditional smoking to vaping.
This type of vape has various fruity flavors such as blackcurrant, blueberry, and peanut butter banana granola. In addition, you can also choose between nicotine-strength options to satisfy your cravings and get that hit.
Slugger Vape Juices
Slugger brings exceptional quality nicotine salt e-liquids that deliver the most gratifying vaping experience. With nicotine available in different strengths, 20mg, 35mg, and 50mg, you can find the ideal level of slugger vape juices to meet your e-juice needs. The plethora of flavors, including apple peach ice, lemonade ice, lychee raspberry ice, and more, makes it perfect for assuring you always have a satisfying vape on the go. These flavors are combined by experts in such a manner that gives you bold and exotic tastes–one that you have never experienced before.
Ruthless Salt Nic Flavors
Our ruthless salt nic flavors are an innovation in the rise of e-liquids: a refreshing blend of tropical fruit, perfect for any event. The wide range of flavors gives sharp and sweet flavors while balancing out its fruitiness with nicotine. Their exceptional salt formulation will provide you with a sleek, smooth throat hit Ruthless is famous for. With every inhale, you will experience a carefully blended mix of flavors, including jungle fever, swamp thang on ice, and strizzy, and exhale with a refreshing finish.
Vapes Direct: Your Ultimate Solution To Affordable Vaping
If you're looking for a reliable place to shop affordable freebase vapes without compromising on the quality of the nicotine and flavors, then Vapes Direct should be your primary choice. Founded in 2015 in the UK, Vapes Direct started as a small entity selling a limited range of e-liquids but later expanded into a huge company branch in the UK, Germany, and now, Pakistan.
The company began its operations in Pakistan in 2020 by opening its first-ever outlet in Islamabad. At Vapes Direct, we provide the best of everything to our users, so we are continuously conducting research and development to meet the needs of the growing market. From the finest quality vaping hardware to vape tanks to coils to mods to e-juices- you name it, we have it.
To Wrap Up
In short, vaping on a budget doesn't mean you have to compromise on the quality of it. Many flavorsome vape juices are cost-friendly, providing the optimal vaping experience. Some of these include but are not limited to Pod Salt, Slugger Vape Juices, and Ruthless Salt Nic flavors. Get your hands on them, and we will allow you to find an affordable option for your satisfaction without selling your kidney.