UWELL Caliburn GK2 Pod Kit Review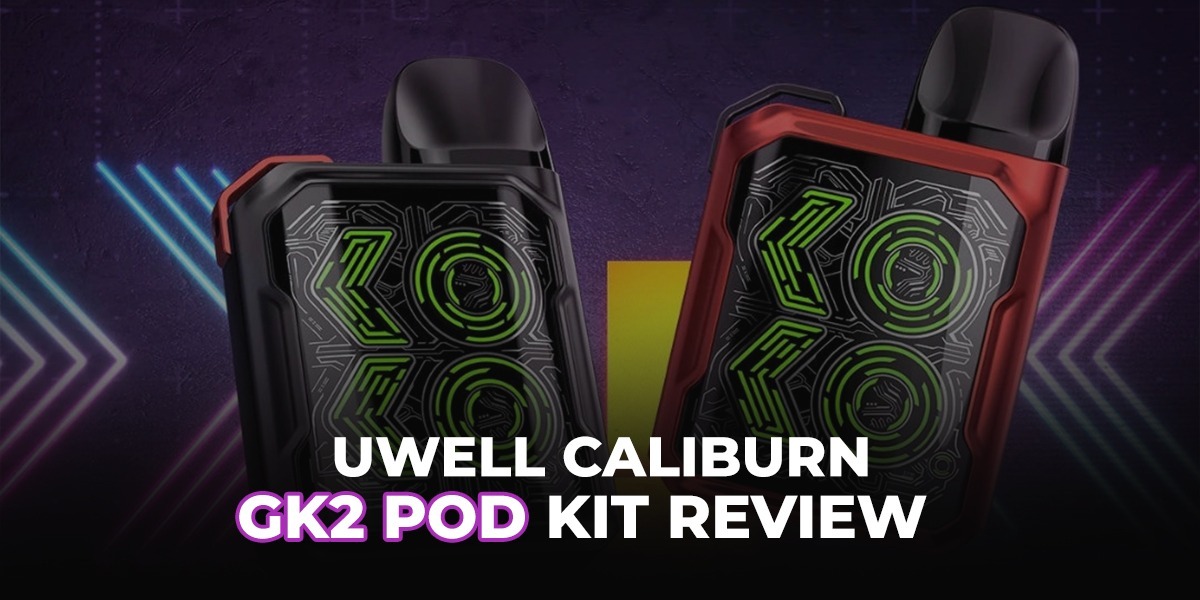 Pod kits are the best in the class. The reason? These devices are compact in size and come with an integrated battery that can easily give you a good time for your vaping sessions. On top of that, the batteries of these pod kits get charged up quickly. The pods on these devices have an ample amount of capacity for keeping your favorite e-juice stored in them.
Speaking of top-notch pod kits, UWELL is one of the brands that has been doing wonders for vapers across the world. Today, you will get a review of UWELL Caliburn GK2 and how it can be the ideal device for you. Keep reading!
Design
The very first thing that you will notice on this device is how the design looks futuristic and modern. The box design with the slim style feels pretty comfortable in the hand. It is handy, and you can hit the outdoors with this pod kit. The best part of this design? It has a lanyard slot, so you know it's the right device for you. Hang the lanyard on your neck, and you are good to go.
The color gradient on the device adds a character to the pod kit. If we talk about the bottom side of the kit, there's a Type-C USB charging port where you can juice up the batteries of your pod system. Inside the kit, there's an integrated 690mAh battery, and there are venting holes with it under the pod system.
You can see a juice viewing window on the side of the device, and you can always check the e-juice in the pod from here. Under the window, there's a single airflow pinhole as well.
Fancy Lights
GK2 comes with some of the fancy lights that you can't find in any other pod system or any other device that is available in the market. This looks super cool because these lights serve an important purpose as well.
Whenever you are vaping on the device, the glimmering green light indicates the battery strength is above 60%. If it's blue, then it means the battery is somewhere between 30% to 60%. If the red is displayed on the device, then it means it is under 30%, and now you need to run to the power output to charge your device.
There's an 8-second vape cut-off whenever the light glimmers green five times and sends two waves of vibration. On the other hand, if the red light flickers constantly and the battery vibrates three times, then you need to recharge the pod device.
What's more interesting about these lights is that they will warn you of many potential safety issues.
Short circuit protection: Yellow flicker x 4 and vibration x 4
Low voltage protection: Red flicker x 10 and vibration x 3
Overtime protection: Green glimmer x 5, and vibration x 2
Open circuit indication: Blue flicker x 3, and vibration x 2
If you are taking out the pod or putting the pod back in the device, these lights will also flicker at that time.
Speaking of devices, if you are looking for UWELL Caliburn GK2 or other vape devices in Pakistan, then you can check Vapes Direct for it.
Performance
UWELL Caliburn GK2 comes with the 1.2 ohm G2 mesh coil, which is the ideal setup for people who want to satisfy their daily need for nicotine. This coil will be performing really well if you are using a salt-nic e-liquid with it. The flavor will be enhanced, and you will get good cloud production from this coil. On top of that, the strong throat hit is what you will love the most.
On the other hand, there's a 0.8 ohm G coil, which is the right choice for vapers who want a huge cloud production with top-notch flavor. This coil will be the perfect solution for vapers who want to enjoy freebase e-liquids as well.
What's more interesting about this device is that it comes with a progressive airflow control. Vapers can adjust it the way they like. If they want to enjoy MTL or restrict direct lung, then they can do it as per their preferences.
Pro-tip: Use a 50 VG / 50 PG e-liquid on the 1.2-ohm G2 coils so you can enjoy a better vaping session.
Final Thoughts
Caliburn GK2 is an incredible device for many vapers out there. You can enjoy freebase and salt-nic e-juices on this pod system. The best part of this device? You can take it anywhere with you, all thanks to the compact design. We hope that this review of Caliburn GK2 will make you grab this device soon.