The Best Budget-Friendly Vape Devices Under PKR 9,000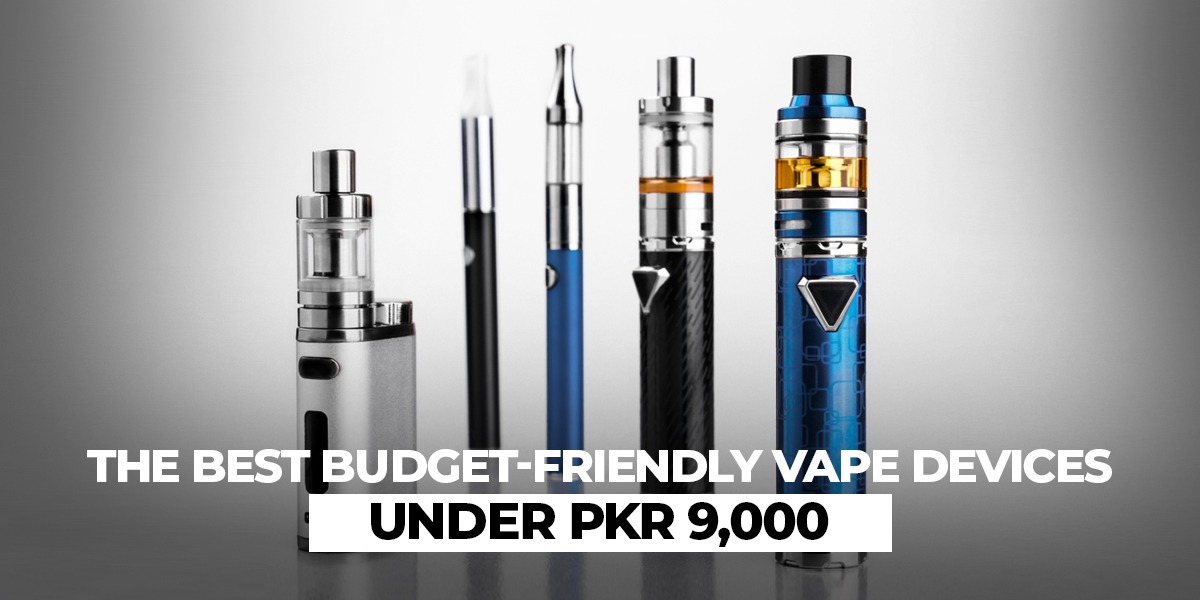 In today's world, vaping has become a trend and is loved by millions all over the world. While the trend continues to expand more and more, the prices of devices and related equipment also continue to soar consequently. Finding the perfect device within budget is essential for new vapers, especially for Pakistani vapers. We have curated this blog to highlight and discuss the best vaping devices under PKR 9,000 that don't sacrifice quality for affordability.
Voopoo Argus P1
The Voopoo Argus P1 is one of the most affordable vape devices available in the market. It is equipped with a built-in 3000mAh battery and a 5-60W adjustable power range. Additionally, it has a Type-C charging port, which allows for faster charging times. The device comes with a 4.5ml pod that uses replaceable coils. Overall, it is a durable, reliable, and efficient device that delivers a fantastic vaping experience.
Voopoo Argus Z
Another Voopoo device that is budget-friendly and delivers excellent performance is the Voopoo Argus Z. It is powered by a built-in 1500mAh battery with a 5-40W adjustable power range. Furthermore, this vape device comes with a 4.5ml pod or tank, depending on your personal preference.
Voopoo Vinci X
The Vinci X from Voopoo is another budget-friendly vape device that is worth checking out. This device is powered by a replaceable battery and has an adjustable wattage range. It comes with a 5.5ml pod and uses Voopoo's PnP coil system. Furthermore, the Voopoo Vinci X is the ideal choice for you if you are looking for a smooth, flavorful vaping experience.
Caliburn Koko Vision
The Caliburn Koko Vision is a simple yet effective device that is perfect for beginners. This device is powered by a built-in 520mAh battery and has a maximum output of 11W. It features a draw-activated system, meaning that there are no buttons to push. Also, it comes with a 2ml pod that uses replaceable coils.
Smok Nord 5 (80W) Kit
The Smok Nord 5 (80W) Kit is one of the best budget-friendly vape devices for those who are looking for a higher power output. This vape device comes with a 4.5ml pod that uses replaceable coils. This device is perfect for vapers who are looking for a budget-friendly vape device in Pakistan.
Voopoo Doric 60
The Voopoo Doric 60 is a reliable pod kit that is perfect for those who are always on the go. While you can also opt for disposable vapes while traveling, there would simply be no need for them if you have a device like Voopoo Doric 60. Its huge 2500mAh battery ensures that you can use it all day without any worries about running out of battery. Furthermore, its classic pen-style design makes it easy to carry and ensures that it is always handy whenever needed.
Final Thoughts
All in all, you don't have to spend a lot of money now to get a quality vape device. There are plenty of budget-friendly options available that still deliver satisfying and flavorful hits.
While the price of vape devices in Pakistan can vary from expensive to affordable, it is always recommended to pick one that fits well within your budget. The devices listed above are available under PKR 9,000 and are surely worth checking out. You'd be glad to know that Vapes Direct has these devices available for you! We're the go-to destination for people who are looking for the best vape pens for sale. Have a look at our selection, and place your order now!