Cloud Chasing: Tips and Tricks for Massive Clouds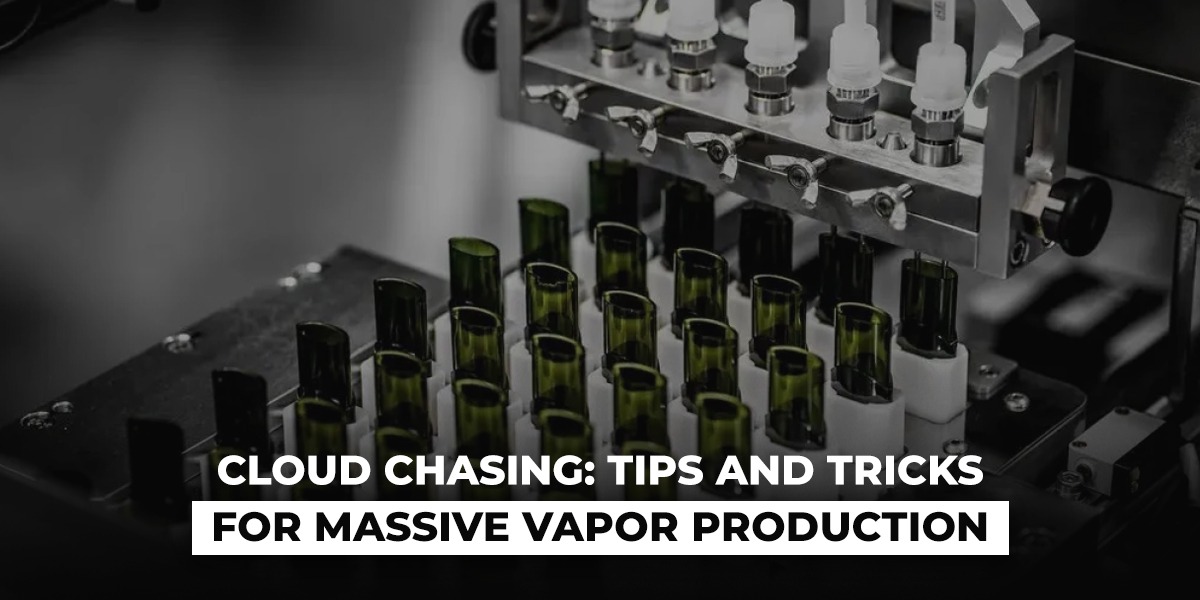 In the world of vaping, there comes a time when vapers want to do something really cool – cloud chasing. It's a really fun thing that many people enjoy. This cloud-chasing thing has become a big deal in vaping, and lots of people have gotten into it.
For individuals who are drawn to the art of cloud chasing and want to learn how to do it better, this blog is all about helping you out. We will provide you with expert advice and effective techniques for mastering the art of cloud chasing.
Kits Suitable For Cloud Chasing
Before you jump on the cloud-chasing trend, you need to have the best cloud-chasing vape device. If you want big clouds, then you need a device that has a sub-ohm vaporizer on its top. Sub-ohm vaporizers come with sturdy tanks and powerful batteries that are able to power up the vaping device and let it go up to the highest wattage. This is a must-have in order to produce some of the huge clouds from the device.
The best part? These devices are pretty much easy to use, and even beginners can use them for experiments. However, an advanced enthusiast would love a device that comes with higher watts and a rebuildable atomizer.
Read about the best cloud-chasing vape kits that you can get your hands on with Vapes Direct:
Vaporesso Target 100/200
Voopoo Drag S Pro
Voopoo Drag 3
SMOK RPM 5
GeekVape Z200
Tips For Chasing Vape Clouds
As we know you are here to learn tips and tricks for creating massive clouds. If you want to produce the biggest clouds, then these are the things that you need to consider:
Using the right battery
Picking up the right coils
Opening up the airflow all the way up
Going for the right e-liquid
Picking up the right device
Purging
Picking Up The Right Batteries
Batteries play an important role, one of the most important parts of any device. A strong battery means more power. More power will let you vaporize e-liquid at a quicker rate. Pushing out more power means that it will make it easier for the user to inhale vapor faster. This results in producing more vapor in just one inhale.
Going For The Right Coils
Whenever it comes to cloud chasing, you don't need a massive battery but also suitable coils which are made with high-end material and resistance. Batteries and coils work together to give you a better vaping experience.
The coils have to be cleaned all the time in order to work flawlessly. If there's a residue build-up inside them, then there are chances that the vape device won't be able to perform the way it should.
Adjusting The Airflow Control
Having a vape device that comes with adjustable airflow can take your vaping experience to a whole new level. Most of the sub-ohm devices have adjustable airflow settings, and they can be adjusted to create bigger and thicker clouds for the ultimate cloud-chasing experience.
Using The Right E-Liquid and Device
When it comes to e-liquids, hundreds of options are available. Out of those options, you can pick the e-liquids, which have a high concentration of VG (vegetable glycerine). On the other hand, you need to choose a device that comes with a high-quality sub-ohm tank and that is able to let you do the cloud chasing.
Purging
Purging is one of those tricks that is used for cloud chasing. It is done to heat up the coils quicker by exhaling into the vaping before you inhale. With this, you can prime the coils to produce bigger clouds.
Final Thoughts
For vapers aiming to become skilled at cloud chasing, these professional tips and tricks are here to help. By adding these insights to your knowledge, you'll quickly get better at making those cool vapor clouds. So, let's not waste any time – practice making amazing clouds while enjoying your vaping experience!