Atomizer vs. Cartomizer vs. Clearomizer: Which One Is Best For You?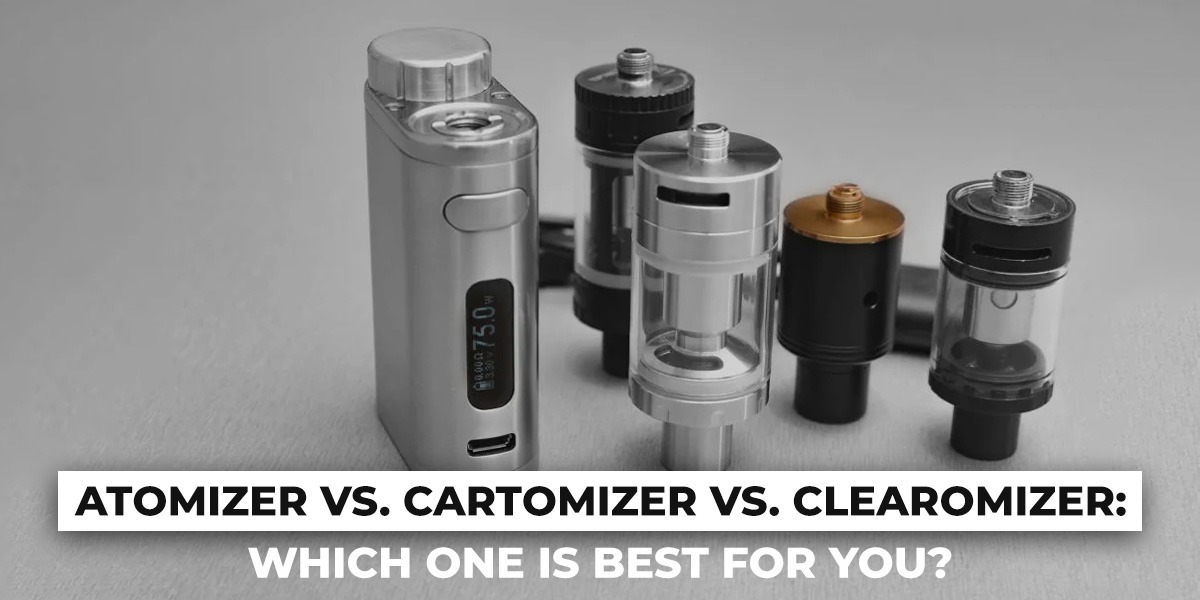 Vaping has been around for a long time in the world, and in the last few years, we have seen it taking the world by storm. Many people are switching to this alternative because it comes with many benefits over traditional smoking. However we know how to use these vaping devices, but most of us don't know the original terms and how to identify the things we are using for our vaping purposes. If you are an individual who wants to know about these things, then keep going on with this blog.
In this blog, you will get to know about atomizers, cartomizers, and clearomizers. This will clear the confusion that many vapers and people around the world have related to these things.
Before we go into depth, it's essential that you should know the basic things about the vape device. Here's something that you should know about these three items:
Atomizers
What is a vape atomizer? Atomizers are what turn the e-juice into a better and fine mist or turn it into a vapor so the users can inhale it. Cartomizers and clearomizers are similar to atomizers, but whenever this term is used, vapers refer to the rebuildable models, which require some work to do with these atomizers.
Clearomizers
Clearomizers have see-through glass or a plastic tank that is a premade atomizer. However, these atomizers are disposable, and they have very less fuss and complications with them.
Cartomizers
Cartomizer vapes are usually known as extended atomizers since they have a longer case. You will find them in affordable e-cigs, which are made in order to look pretty much the same as cigarettes.
How Are They Functioning?
You must be wondering how these three work and function for vapers across the world. Read about them below: 
Atomizers
Atomizers have been a popular choice among vapers worldwide. This is the first option that they will opt for to get the most out of their vaping device. Whenever you hear the word 'atomizer,' this will directly mean that the vapers are talking about rebuildable dripping atomizers, which are known as RDAs, or rebuildable atomizers, which are called RBAs.
The atomizers are equipped on a device that has a heat-resistant wick wrapped all around its coil heads which are heated by the vape device. When you add e-juice to your vape, this will start to saturate the wick, and the coils will heat up the liquid and turn it into a vapor so you can inhale.
Most of the atomizers require frequent filling every now and then. On top of that, you need to maintain them so they can deliver a top-notch taste with massive cloud production.
Clearomizers
Clearomizer tanks are ideal for newbies who are just kick-starting their vaping life and don't want fuss and mess-ups. They will provide you with a great experience, and you can have fun vaping with these clearomizers. The best thing about these devices is that the atomizers are replaceable and stored at the bottom of the tank. Users can unscrew it whenever they are going for a new one.
Cartomizers
Cartomizers come with a short life span. You can refill them for a short time period. Once you run out of their life span, you will have to get a new one since they are pretty much the same as disposable vapes.
Final Thoughts
Atomizers, clearomizers, or cartomizers – the choice is yours. Now that you are pretty clear about the differences between these three, you can go for the one that suits your preferences and ticks all the boxes.
You can grab all the best vape accessories online from Vapes Direct for your vaping arsenal and head toward your vaping journey today!