A Guide to SMOK Coils: Brief Comparison Between SMOK Coils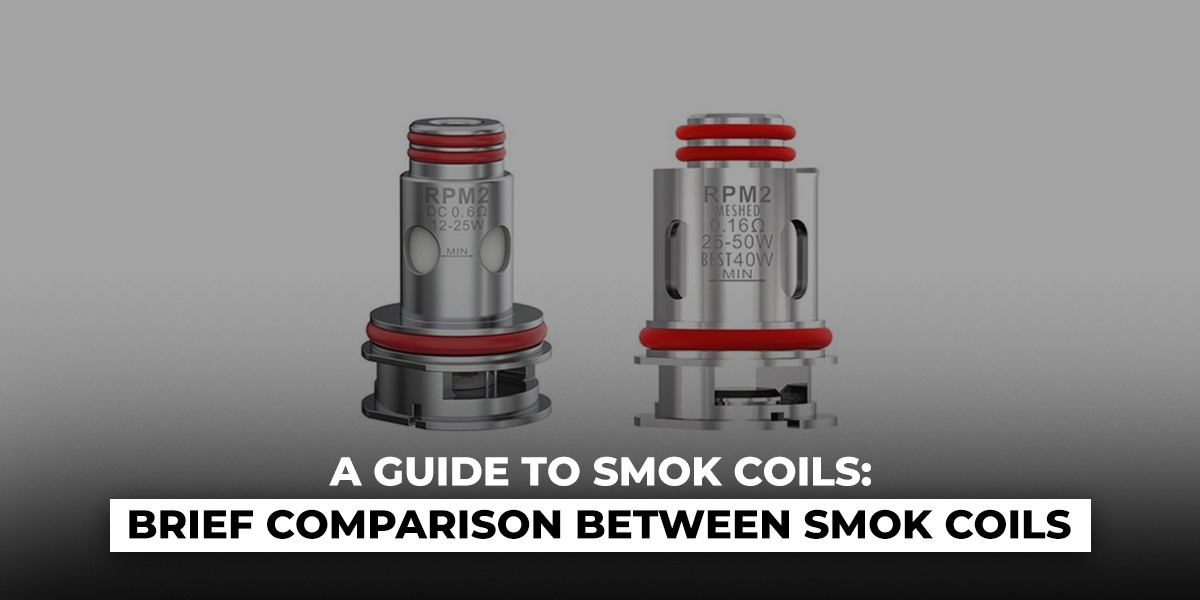 Vapes and their components have seen significant technological advancement throughout their existence. Many brands, including SMOK, have come up with many variations of vaping devices and their accessories to enhance user experience and ensure complete satisfaction.
The brand has gone the extra mile and put effort into providing the best coils to the vaping industry. Today, you will read about SMOK coils of different types and ohm variations. This guide will help you find the right SMOK coil for your device. Keep on reading!
SMOK Coils
Whether you are a cloud chaser, a flavor craver, or someone who wants to fulfill their nicotine craving, there's a SMOK coil for you. However, not all SMOK coils are the same. Of course, you have to pick the one compatible with your tank but also ensure that you can use it at the best wattage.
SMOK is well-known for dropping the best tanks in the market. Following are the tanks and pods they offer:
Nord
Fetch
RPM
TFV8 Tank
TFV8 Baby Tank (It is ⅓ smaller than the TFV8 tank)
TFV8 X Baby Tank (A bit larger than the TFV8 Baby)
TFV16 Tank
Smok Resa Baby Tank
Prince Tank
What SMOK Coils Are Compatible With My Device?
Read about the SMOK coils that you can get your hands on for your device:
Nord Devices:
Most of the SMOK Nord pod kits are compatible with the Nord coils. However, depending on the tank, you can also use RPM coils in these devices. They will allow you to use the device as a sub-ohm kit.
The Nord mesh coils are ideal for your DTL (direct-to-lung) vaping, whereas the 1.0 ohms or onwards coils are perfect for MTL (mouth-to-lung) vaping. All of these MTL coils are best for salt nic e-liquids.
Both coils will let you enjoy an incredible flavor, but MTL coils will give you less cloud production than DTL. Individuals have to choose the one that's right for their personal vaping style.
Fetch:
Fetch vape kits will let you use the RGC series' coils or the RPM series' coils in them. The RGC coils are good at producing clouds at higher wattages. Meanwhile, the RPM coils are better for people who prefer an incredible flavor over cloud production.
RPM Series:
RPM is one of the most popular device series of SMOK. It has been doing wonders for vapers across the globe. All of these devices can go to the highest wattage on the device with the RPM coils. RPM mesh coils are the top-rated coils of the company. You can purchase coils and e-liquids from Vapes Direct and use the flavors of Skwezed mesh coils with your SMOK devices.
TFV8 (Tank, Baby Tank, X Baby Tank) Devices:
If you have a SMOK device compatible with the TFV8 Tank, TFV8 Baby Tank, and TFV8 X Baby Tank, then you need to get your hands on the coils compatible with these tanks. Change the coils as per your vaping style and other preferences.
If you are looking for massive cloud production, then go for the one with the highest wattage, and if you want more enhanced flavor, then pick the coil that will have a better flavor delivery.
Final Thoughts
We hope this guide has helped you with the information you need about SMOK vape coils. You can use those coils or other tanks which are compatible with your device for a fun yet efficient vaping experience. Also, don't forget to prime the coils before you start your vaping journey after installing a new one into your device's tank.