A Comprehensive Guide To The Best Short Fill Vape Juice Ranges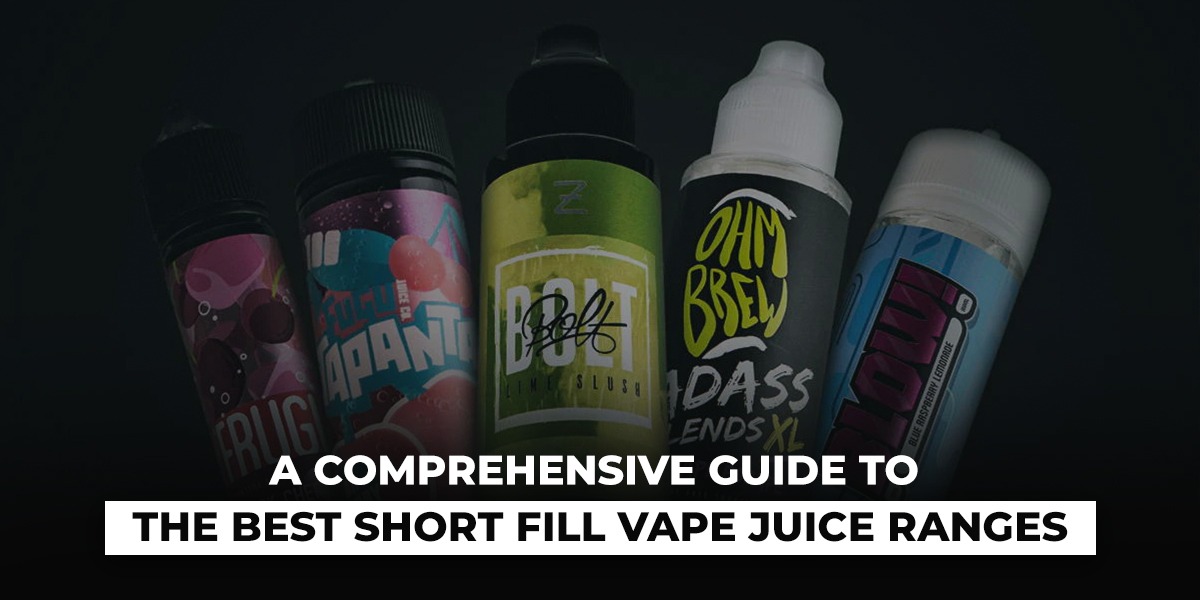 Vaping is full of fun because of its incredible flavors, massive cloud production, and tricks. Of course, all of this requires a lot of attention to detail in order to bring something wonderful to the table. A device that has cutting-edge technology inside it that is able to put out a maxed-out high wattage, coils, tanks, and whatnot. On top of that, the e-juice matters a lot for this. Whether you love fruity combinations, dessert flavors, or a mixture of many flavors, it is always confusing for vapers to pick one for the best experience.
If you are an enthusiast who's planning to get the e-juices that are available in the market, then keep going on with this blog. You will get to know about it.
A Little About Shortfill Vape Juices
Shortfills were introduced as an ideal solution for the vapers who were facing problems after the TPD (Tobacco Products Directive) came into effect. There was a limit to the size of nicotine-containing e-liquid bottles to 10mL. This made it difficult for the vapers who needed a larger amount of e-liquid for refilling their pods and tanks of their devices.
Shortfills, which came with their larger bottle of e-liquid, were not entirely filled, offering a solution to this problem. This lets the vapers add a boost of nicotine to increase the nicotine strength.
How can we forget that shortfills give you a customization factor which gives the vapers the freedom to choose their own adventures whenever it comes to flavor, PG/VG ratios, and nicotine strengths? You can enjoy next-level vaping with these blends.
Shortfills That You Can Pick
We have compiled a list of the ultimate shortfill e-liquids that will be ideal for you. Read about them below:
Pod Salt Vanilla 10mL
The company Pod Salt has been rolling out some of the most amazing blends, which are all about hitting the right spot on your throat and satisfying your daily vaping needs. These e-juices give you a premium taste on the inhale. This e-juice is a treat for individuals who like the luscious and creamy vanilla flavor with a sweet and smooth aftertaste.
This vape liquid has an ample amount of nicotine inside it that will fulfill your daily nicotine needs. It will give you a relaxing feel. You can grab this e-juice and other e-juice flavors of Pod Salt from Vapes Direct's collection.
Pod Salt Summer Syrup 10mL
Are you into summer drinks? This amazing flavor is all about that. This will make you feel as if you are taking a sip of your favorite cocktail, which is a fusion of grape soda, paired with limeade. On top of that, this concoction is blended with pineapple juice and zesty lemons for a refreshing taste that will keep you coming back for more and more. All you have to do is fill this e-juice in your device and jump on a vaping adventure.
Pod Salt Strawberry 10mL
Pod Salt has an amazing range of shortfill vape juices for vapers who want vape juice that will be ticking all the boxes for them. From flavor to VG/PG ratios to nicotine satisfaction. This wonderful e-juice will remind you of the time when you are taking a sip of your favorite strawberry juice. It has exotic strawberries that are picked from fresh farm fields.
Final Thoughts
We are sure that this guide will help you pick up shortfill e-liquids for the perfect vaping experience. The shortfills we have mentioned are the best in the game right now. You can give them a shot, and we are pretty sure that you won't regret it.